Why these entry schemes were suspended and what are they?
With an outbreak of new Covid 19 variant 'Omicron' in Thailand, the Thai government has stopped approving new applications for 'Test & Go' and 'Sandbox' entries (except through Phuket Sandbox) – but will still allow visitors whose application has already been permitted to visit Thailand as planned. The prime minister, Gen. Prayut Chan-o-cha said that "this temporary resolution was mainly created for the safety of Thai people and fears of the wider spread of Omicron".
'Test & Go' scheme only applies to visitors from 63 low-risk countries, while the 'Sandbox' scheme is open to all international visitors. All visitors are required to be fully vaccinated and tested negative for Covid-19 72 hours before entering Thailand.
Current 'Omicron' situation in Thailand
"There will be no new approvals for the Thailand pass Test & go, and Sandbox schemes until the situation is reviewed on 4 January 2022 and with both entry options suspended, quarantine will be fully restored for arrivals. Although the Omicron variant spreads much faster, its symptoms are not as severe as other variants and are easier to be treated" The prime minister said. He also said, "it is assured by the official that there will be sufficient health personnel and resources to handle Omicron outbreak which might occur from previously permitted visitors".
So far, approximately 200,000 visitors were permitted to enter Thailand via 'Test & Go', and 'Sandbox' schemes. Around 110,000 visitors are now already in Thailand, with another 90,000 further applications will be approved through these schemes, in which they will also be allowed to visit Thailand.
The last group of permitted visitors via 'Test & Go' and 'Sandbox' schemes will arrive on 10 January 2022.
New rules applying to all Thailand Pass applicants are as follow;
Applicants who have already received Thailand Pass QR Code can enter Thailand under their registered scheme.
Applicants who have already registered Thailand pass but have not receive QR code yet must wait for the approval of their application. After approved, applicants can enter Thailand under their registered scheme.
New applicants can no longer register 'Test & go' and 'Sandbox' scheme (except through Phuket Sandbox) due to the Omicron outbreak. Currently, new applicants can only enter Thailand via 'Alternative Quarantine (AQ)' or 'Phuket sandbox' only.
Visitors who visit Thailand under 'Test & go' and 'Sandbox' schemes are required to undergo second Covid-19 using the proper RT-PCR method (not ATK Rapid antigen self-test) at government designated facilities (no additional cost)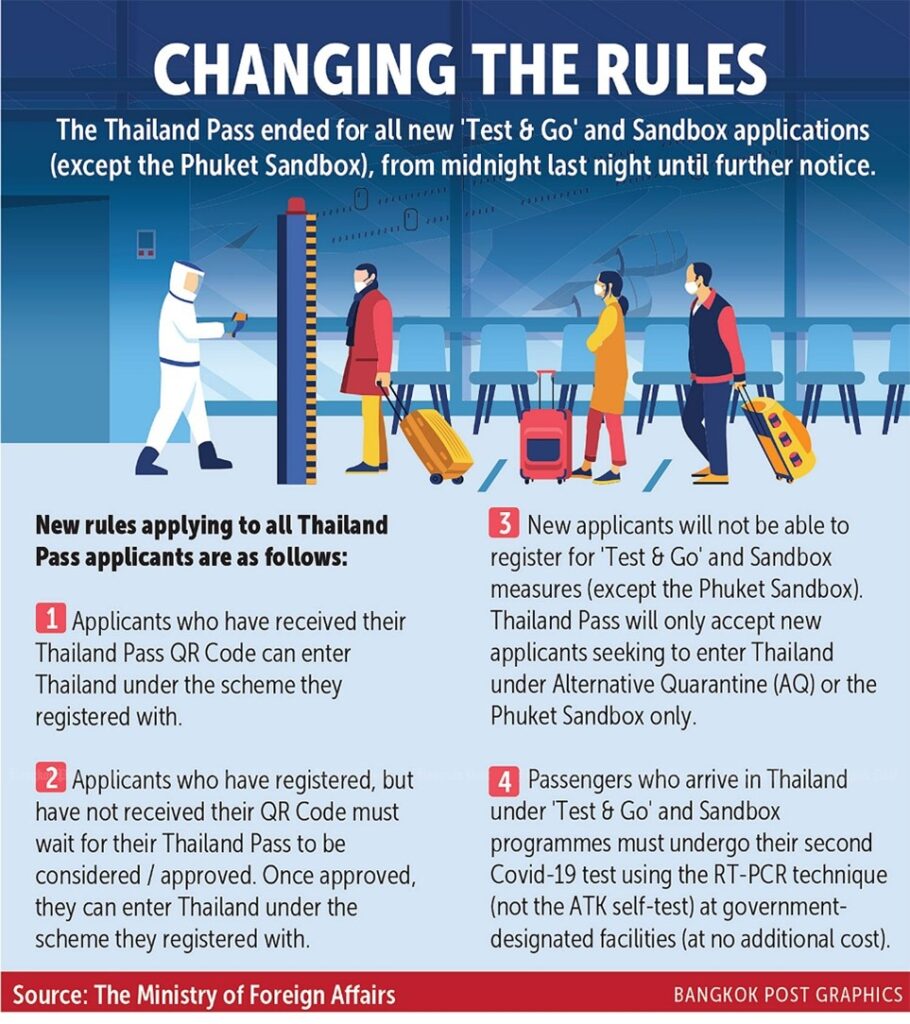 How does Omicron affect Thailand Elite members?
The aforementioned 'Thailand Pass' rule changes also apply to all Thailand Elite members.
Thailand Elite Airport service update during this travel restriction
Due to the extended restrictions to enter Thailand after the Omicron outbreak. Thailand Elite now extended domestic airport transfer service to 31 March 2022. We would like to inform you that our transfer service for domestic flights has been extended to 31 March 2022. This offer is only for Thailand Elite members who are currently residing in Thailand to convert their airport transfer service quotas for international flights into transfer service quotas for Thailand domestic flights.
This offer is provided to members who are entitled to international transfer services under the following membership types:
Reservation: Reservation of transfer service for domestic flights must be made at least 24 hours in advance
Cancelation: Cancelation of the reservation must be made at least 12 hours in advance, otherwise late cancellation or no-show charge will be applied.
Important notices:
Transfer service usage will be converted and deducted from each Thailand Elite Member's remaining quota of international transfer service under the membership privilege.
Elite Personal Assistant (EPA) Service is unavailable for domestic flights.
Domestic airport transfer service is exclusively provided for eligible Thailand Elite Members only. Guest(s) who is travelling with a member is allowed, but guest(s) travelling without a member is not permitted.
How to apply for Thailand Elite visa?
For more information on Thailand Elite membership, please contact us at CLICK HERE Or APPLY NOW with special promotions.
FAQS
A: Thailand Elite card is provided to all Thailand Elite members, which members have to present it when they want to use the service at Thailand Elite's service providers facilities.
A: Thailand Elite visa cost start from 5 year Elite visa Thailand price of THB600,000 up to THB2,140,000 for 20 years Elite visa with maximum privileges
Q: Can I travel to Thailand without quarantine during this Omicron outbreak?
A: No, all visitors must undergo quarantine process in Government designated facilities
Reference: https://www.bangkokpost.com/learning/easy/2235635/no-new-test-go-limited-sandbox-entriesst