Thailand Elite visa may have become one of the best options available for digital nomads and those who can work from anywhere as Bangkok has been ranked at the top spot for the world's best destination for 'workation'.
Since the Covid-19 outbreak in 2020, working from home has become a new normal for many industries across the world as working at the actual office space is no longer safe. Many people convert some spaces in their house to a temporary office setup. But this practically means that you will have to be at home for the whole day during office hours and for many days a week, which could also consider being a problem for many people.
Bangkok is officially the world's best destination for workation
From 2021 onwards, when vaccine options are available, airlines resume their international flights and countries started to open up to welcome tourists, workation popped up as another popular option as it means that you can take your job while going on holiday some places with an inspiring environment for work and also allows you to relax at the end of the day. And with that said, Thailand would be an ideal place as there are varieties of places where business and leisure can co-exist.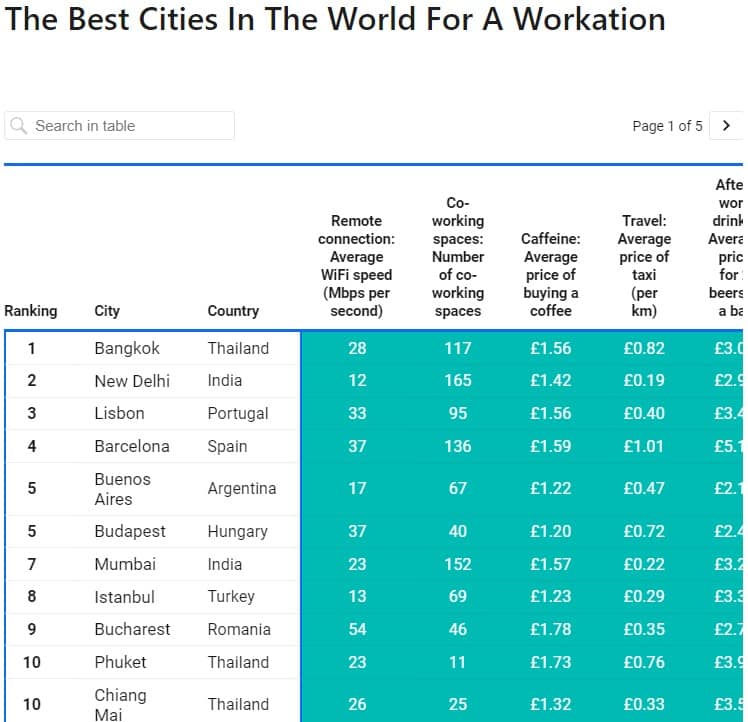 What makes Thailand the best spot for 'Workation'?
According to UK-based travel website and search engine, Holidu has published a list of Holidu's Workation list 2021 which information was gathered from global sources – Bangkok is ranked as the number one best destination for workation mainly thanks to;
Free WIFI coverage through our Bangkok – Over 450,000 spots
Affordable cost of living
Great cuisine and they cost next to nothing
Most people in Bangkok speak English
Wide selection of facilities available from cheap – world class tier
Varieties of tourist attractions
Varieties of shopping place – from luxurious uptown shopping mall to local floating market
Multinational corporate offices
Chiangmai and Phuket are also ranked within the top 10 of the world's best workation cities, both shared 10th place.
Why do you need Thailand Elite visa if you are planning to have a workation in Thailand?
With Bangkok, Phuket and Chiang Mai ranked within the world's top 10 best workation cities in the world and with the fact that many companies globally already embraced work from anywhere as a norm, a long stay in Thailand can be a tempting option for many people. But coming to Thailand with a normal tourist visa or visa exemption only allows 30 or 60 days per stay and in order to extend it, you may have to do a visa run, where you have to leave Thailand to come back to extend the tourist visa, in which it will cause you a problem at arrival overtime where immigration border control may reject to issue the visa or even ban you from the country.
What does Thailand Elite visa offers?
Thailand Elite visa (Privilege Entry Visa) grants you the right to a hassle-free stay in Thailand with a long-term multiple entry visa from 5 up to 20 years. The membership also comes with many exclusive members' only privileges including airport services with Elite personal assistant, Elite personal liaison, 24/7 Elite member contact centers, and many more.
How to apply Thailand Elite visa
Apply for Thailand Elite is very simple, CLICK HERE to see types of available membership types or click APPLY NOW or you can just contact us at info@thailandelite.net with a special promotion.
FAQs
Reference:
https://www.holidu.co.uk/magazine/the-best-cities-for-a-workation
https://www.bangkokpost.com/thailand/general/692868/govt-bans-foreigner-visa-runs-to-borders