Thailand long stay life may be considered to be interesting to many foreigners, from retirees to digital nomads who want to live in a country with many beautiful natural attractions from golden beaches to greenery landscape of mountains, low cost of living, rich with heritage and cultural background and most importantly, a world-renowned Thai cuisine. But what is it like to come and to live in Thailand now after a big wave hit from Covid 19 Pandemic? Below are some updates that you may need to know before coming to Thailand with a Thailand Elite VISA.
The current state of Covid situation in Thailand
Thailand is currently at the stage of easing out its worst phase since the start of the pandemic, thanks to strict lockdown and quarantine on arrival regulation in the past period.
Covid-19 cases in Thailand are now declining stage with approximately 7,000 cases are reported per day on average.
A nationwide vaccine program has been started since the beginning of June 2021, in which Thailand aims to vaccinate 70% of the population by the end of 2021. And according to CNN's vaccine tracker, approximately 56% of Thai citizens have already been fully vaccinated.
What is it like to live in Thailand now?
Restrictions may vary throughout Thailand, in line with a color-coded zoning system designed to indicate the Covid-19 situation in each province.
Curfew in Bangkok was lifted since the 1st of November 2021, however, the 10 p.m. curfew still remains in some provinces which color-coded "dark-red" including Chanthaburi, Nakhon Si Thammarat, Narathiwat, Pattani, Songkhla and Yala, and Tak.
Spa, Cinemas, sport facilities, museums, historical sites, art galleries, monuments, are now open through out Thailand but is still required to strictly follow public health regulation such as temperature scan at entrance, must provide hand sanitizer and limit visitor number at 75% of normal maximum capacity.
Most restaurants in Bangkok are now opened in normal business hours, and alcoholic beverages are allowed to be served for dine-in customers. However, restaurants located in orange and red to dark-red zones are still prohibited to sell alcoholic beverages.
Bars, Pubs and nightclubs are still remained close throughout Thailand
Domestic travel flight, by bus, by train to and from high-risk areas has been resumed.
When in public, mask is still required to be worn at all times, both indoors and out, and there will be fines for those who do not wear masks in public.
What are the requirements to enter the country?
All travelers are required to apply for a "Thailand Pass" prior to their journey and provide proof of PCR test with negative Covid-19 results taken within 72 hours of departure.
RT-PCR Covid-19 tests will be performed upon arrival and self-testing Antigen Rapid test as a second test must be done on days 6-7.
Proof of insurance with a policy that will cover Covid-19 treatment and coverage of USD50,000 is also required to enter Thailand.
From the 1st of November 2021 onwards, fully vaccinated travelers from 63 approved low-risk countries who wants to enter Thailand without full quarantine restriction is required to check into SHA+ hotel (Thailand Safety and Health Administration accredited) for a night in order to wait for the Covid-19 test result, then they are free to travel in Thailand. Travelers under the age of 12 who are traveling with their parents are exempt from the vaccination requirement.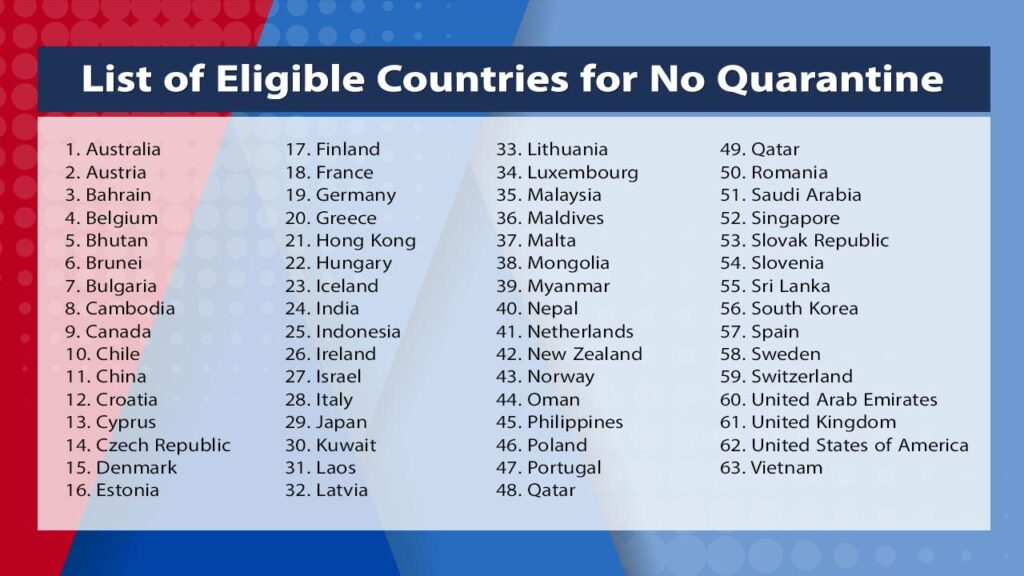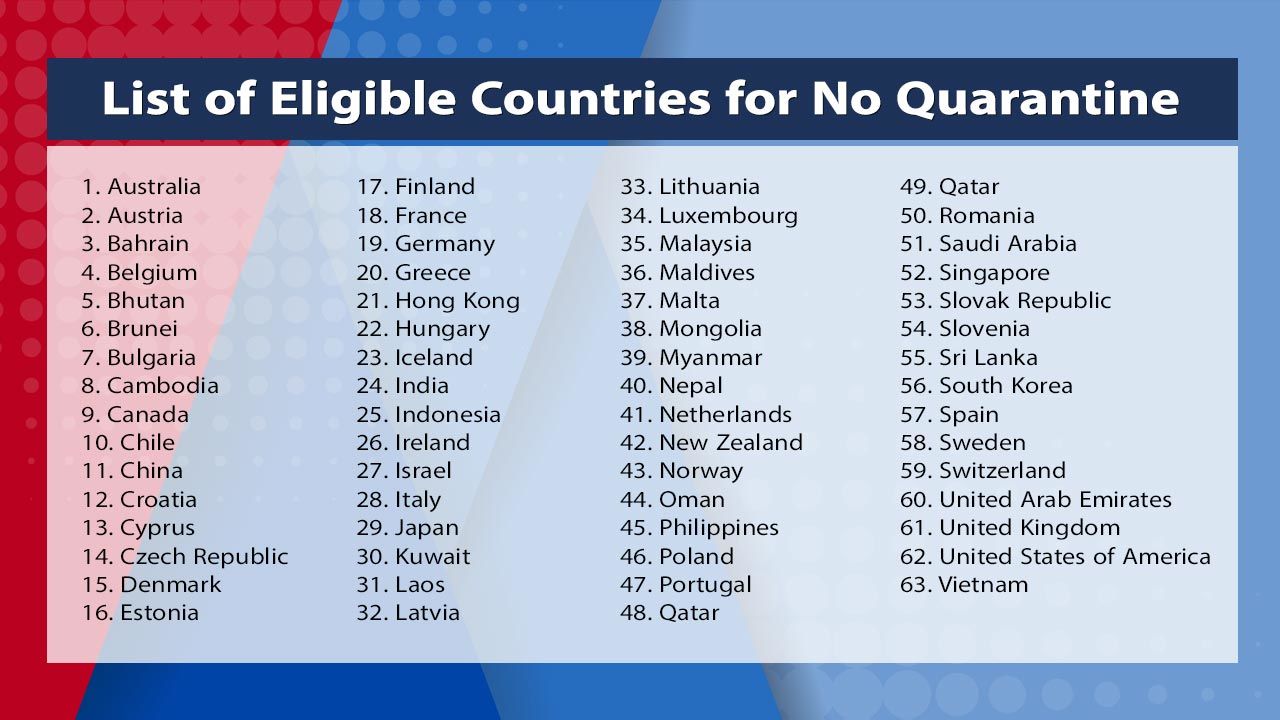 Fully vaccinated travelers coming from a country that is not listed as low-risk can choose to enter Thailand via the "Sandbox" program, to one of these 17 Blue Zone destinations, and are required to stay in a SHA+ hotel for 7 nights to ensure that they are negative of Covid-19. Then they will be permitted to travel throughout Thailand. Travelers under 18 and traveling with their parents as part of the Sandbox program are exempt from the vaccination requirement.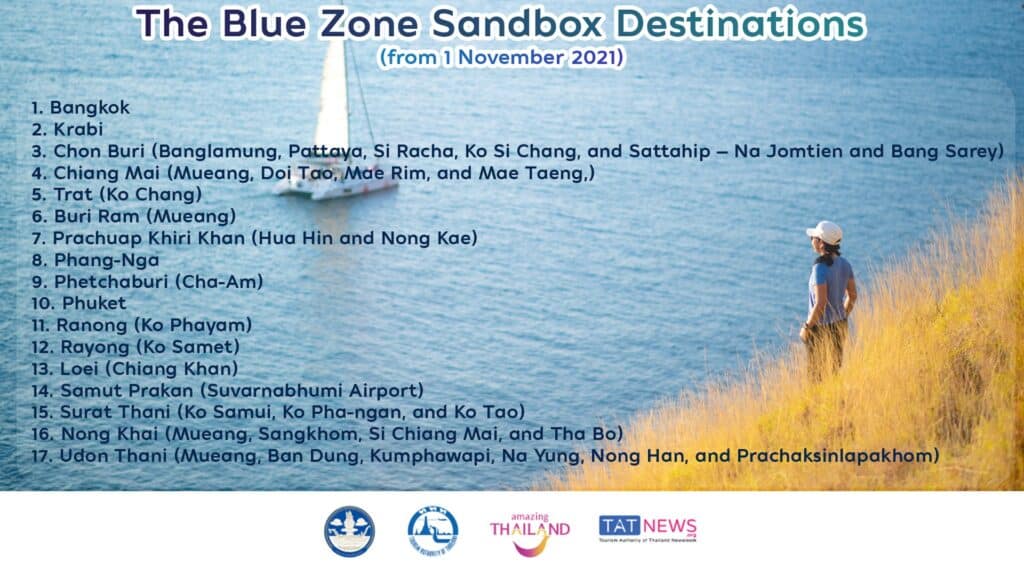 All unvaccinated or not fully vaccinated travelers are required to be in quarantine at ASQ facilities (Alternative State Quarantine- government approve quarantine facilities), which ranged from 5 stars hotels, resorts, or fully serviced apartments.
List of participating accommodation for SHA+, Sandbox program, and ASQ recommended by Thailand Elite can be found at https://asq.locanation.com
For more information on how to enter Thailand hassle-free with a Privilege Entry visa, exclusive airport service, enjoy Thailand long stay, and many more privileges contact us at CLICK HERE Or APPLY NOW with special promotions.
FAQS
Reference: https://edition.cnn.com/travel/article/thailand-travel-covid-19/index.html